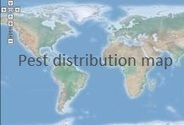 Release of the Plantwise Knowledge Bank, the open-access information resource from CABI covering crop pests and diseases.
Plantwise is a global programme to improve food security, alleviate poverty and improve livelihoods. Plantwise helps developing countries establish a network of plant clinics run by CABI trained 'plant doctors', where farmers can bring crops afflicted by pests or disease.
With diagnostic tools, treatment advice and pest distribution information, the Knowledge Bank was designed to support those involved in plant health in developing countries, especially plant doctors. However, as this information is of value to a wide range of users we also invite all working in plant health across the world to access the resource.
The Knowledge Bank contains a range of features, all of which can be filtered by country, including:
· Interactive pest and disease distribution maps
· Thousands of fact sheets and data sheets on plants and their pests
· Diagnostic tools
· New pest alerts
· The latest news on plant health from around the world
The Knowledge Bank is central to the Plantwise programme, providing truly global information support. From university academics, to smallholder farmers, the knowledge provided will benefit the entire plant health community.
See on
www.plantwise.org
Source:
http://aobblog.com